COUNTRY FACTORS
Demographics
Population

Population is an indicator of potential demand for goods and services. In addition, labor is a factor of production. Appendix A, page 1, shows the population of the countries under study. These countries account for over four billion people. Figure 6 shows the population for the 15 largest countries. China and India together account for over half this population, about 2.2 billion. By contrast, the United States, which is the third largest country, has a population of about 272 million.

Furthermore, China and India are fast growing countries (See Figure 7). China has been growing at 1.43% per year and India at 2.28% per year. The U.S. has been growing at less than 1% per year. Other historically fast growing countries include Brazil, Pakistan, Mexico, Philippines, Turkey, South Africa, Malaysia, and Israel--all growing at over 2% per year. Note that for the most part, these are considered underdeveloped countries. The industrialized countries generally have lower growth rates—most well under 1%.
A high rate of natural population growth has a negative impact on nations. It means that a large portion of the population is consuming but not producing. The earnings of the productive members of society are going to maintain the non-productive members. This diminishes the amount of resources available for investment and for improving the standard of living.
Figure 8 shows the population of each country, the relative size of each country to the total of the 36 countries under study, and the estimated future population growth rate. Also shown and scored is the percentage of the population that is under the age of 15. Scores are established for each population based on the relative size. Scores are established for population growth rate with the higher growth rates receiving lower scores. Nations with higher levels of population under age 15 were given lower scores.
Figure 8 - Population Scores:
Source: United Nations; http//www.un.org/depts/unsd/social

1997 Estimated Population

Per Cent of Total

Population Size Score

(0-10)

Forecasted Growth Rate

Population Growth Score

(0-10)

Percent of Population under age 15

Population under Age 15 Score

(0 to 10)

Argentina

35.6

0.9%

1.7

1.26%

5.3

28%

5.2

Australia

18.2

0.4%

1.2

1.06%

6.1

21%

7.8

Austria

8.1

0.2%

0.8

0.60%

7.8

18%

8.9

Belgium

10.2

0.2%

0.9

0.25%

9.1

18%

8.9

Brazil

163.1

3.9%

3.6

1.24%

5.4

30%

4.4

Canada

29.9

0.7%

1.5

0.85%

6.9

20%

8.1

Chile

14.5

0.3%

1.1

1.36%

5.0

29%

4.8

China

1243.7

29.9%

10.0

0.90%

6.7

26%

5.9

Czech Republic

10.3

0.2%

0.9

0.00%

10.0

18%

8.9

France

58.5

1.4%

2.2

0.33%

8.8

19%

8.5

Germany

82.1

2.0%

2.6

0.27%

9.0

16%

9.6

Hong Kong

6.2

0.1%

0.7

0.80%

7.0

19%

8.5

India

960.2

23.1%

8.8

1.61%

4.1

34%

3.0

Indonesia

203.4

4.9%

4.0

1.47%

4.6

32%

3.7

Ireland

3.6

0.1%

0.5

0.16%

9.4

23%

7.0

Israel

5.8

0.1%

0.7

1.91%

2.9

29%

4.8

Italy

57.2

1.4%

2.1

0.00%

10.0

15%

10.0

Japan

125.6

3.0%

3.2

0.22%

9.2

16%

9.6

Korea

45.7

1.1%

1.9

0.86%

6.8

22%

7.4

Malaysia

21.0

0.5%

1.3

2.04%

2.5

37%

1.9

Mexico

94.3

2.3%

2.7

1.63%

4.0

35%

2.6

Netherlands

15.6

0.4%

1.1

0.50%

8.1

18%

8.9

Pakistan

143.8

3.5%

3.4

2.71%

0.0

42%

0.0

Phillippines

70.7

1.7%

2.4

2.02%

2.5

38%

1.5

Portugal

9.8

0.2%

0.9

0.00%

10.0

17%

9.3

Russia

147.7

3.5%

3.4

0.00%

10.0

20%

8.1

Singapore

3.4

0.1%

0.5

1.50%

4.5

23%

7.0

South Africa

43.3

1.0%

1.9

2.19%

1.9

37%

1.9

Spain

39.7

1.0%

1.8

0.09%

9.7

16%

9.6

Sweden

8.9

0.2%

0.8

0.25%

9.1

19%

8.5

Switzerland

7.3

0.2%

0.8

0.67%

7.5

17%

9.3

Taiwan

25.1

0.6%

1.4

1.40%

4.8

24%

6.7

Thailand

60.2

1.4%

2.2

0.76%

7.2

37%

1.9

Turkey

61.7

1.5%

2.2

1.55%

4.3

30%

4.4

United Kingdom

58.4

1.4%

2.2

0.09%

9.7

19%

8.5

United States

271.7

6.5%

4.7

0.79%

7.1

22%

7.4

Total of 36 Countries

4164.5

100.0%

Average:

0.93%

Average:

24.56%
Political Environment
Individualism vs. Collectivism
Individualism emphasizes individual freedom, self-expression, and economic freedom. Individualism embodies the concept that the welfare of society is best served by allowing people to pursue their own economic self-interest, as opposed to having some collective body such as government dictate what is in society's best interest. Collectivism asserts the primacy of the collective over the individual. The author feels that individualism is a positive economic force since it translates into an advocacy for democratic political systems and for free market economies. This creates a favorable environment for business formation and growth.
Democracy vs. Totalitarianism
Democracy is based upon a belief that citizens should be directly involved in decision making processes. Most modern democratic states practice what is commonly referred to as representative democracy, where citizens periodically elect individuals to represent them. Measures of a democracy include the following:
| | |
| --- | --- |
| | an individual's right to freedom of expression, opinion and organization |
| | a free news media |
| | regular election in which all eligible citizens are allowed to vote |
| | universal adult suffrage |
| | limited terms for elected representatives |
| | a fair court system that is independent of the political system |
| | a nonpolitical state bureaucracy |
| | a nonpolitical police force and armed service |
| | relatively free access to state information. 7 |
Figure 9 -Political Freedom:
Sources; Hill, p41; Ball and McCulloch, p336

Hill (1991);

7 high,

1 low

Political Freedom Score

(1-10)

Ball & McCulloch

Change in Political Freedom Score

(1-10)

Argentina

7

10

Chg to Free

10

Australia

7

10

Free

1

Austria

7

10

Free

1

Belgium

7

10

Free

1

Brazil

6

8.5

Free

1

Canada

7

10

Fee

1

Chile

6

8.5

Free

1

China

1

1

Not Free

1

Czech Republic

6

8.5

Chg to Free

10

France

7

10

Free

1

Germany

7

10

Free

1

Hong Kong

4

5.5

Free

1

India

5

7

Free

1

Indonesia

2

2.5

Partly Free

1

Ireland

7

10

Free

1

Israel

6

8.5

Free

1

Italy

7

10

Free

1

Japan

6

8.5

Free

1

Korea

5

7

Free

1

Malaysia

5

7

Partly Free

1

Mexico

4

5.5

Partly Free

1

Netherlands

7

10

Free

1

Pakistan

4

5.5

Chg to Partly Free

5

Phillippines

5

7

Free

1

Portugal

7

10

Free

1

Russia

4

5.5

Chg to Partly Free

5

Singapore

4

5.5

N.A.

1

South Africa

5

7

Partly Free

1

Spain

7

10

Free

1

Sweden

7

10

Free

1

Switzerland

7

10

Free

1

Taiwan

5

7

Partly Free

1

Thailand

2

2.5

Free

1

Turkey

5

7

Partly Free

1

United Kingdom

7

10

Free

1

United States

7

10

Free

1
In a totalitarian dictatorship a single political party, individual, or group of individuals monopolizes political power in the state. The characteristics of a democracy, including an individual's right to freedom of expression, free news media, and regular elections, may be absent. Political expression may be denied.
Democracy is considered a positive economic force since it permits citizens to express opinions and take actions that lead to economic reform. Additionally, citizens are more likely to be permitted to start new businesses and to have an incentive to better manage existing businesses. The downside is that the electorate may vote for representatives who promise to redistribute wealth and provide a high level of social programs. These programs tax the economic structure of the nation.
Hill presents a chart showing a numerical score for political freedom. Ball and McCullouch contains a chart showing whether a nation is free or is changing to freedom. These are summarized and scored in Figure 9.
Legal Environment
A country's laws regulate business practice, define the manner in which business transactions are to be executed, and set down the rights and obligations of those involved in business transactions. Differences in the structure of law can have an important impact upon the attractiveness of a country as an investment site and/or market. The laws may severely restrict private enterprise as in collectivist states, or they may favor private enterprise and the consumer.
Contract law provides a basic infrastructure for business. Contracts are the documents that specify the conditions under which an exchange is to take place and the rights and obligations of the parties to the exchange. Contract law is the body of law that governs contract enforcement. Russia and the other former states of the USSR have inadequate contract laws and inadequate protection of contract rights. This is creating a disincentive for investments in these countries, especially Russia. A firm does not know whether a deal that they believe that they have made will stand up over time.
Patents, copyrights, and trademarks protect intellectual property (ideas). The intent of intellectual property laws is to reward the originator of a new invention, book, design, etc. for his or her idea and effort. They are a stimulus to innovation and creative work. China is currently getting a lot of attention for its refusal to enforce intellectual property laws. There is large scale pirating of computer software, VCR television tapes, and music tapes and CD-ROMs.
Product safety laws set safety standards to which a product must adhere. Product liability involves holding a firm and its officers responsible when their product causes injury, death, or damage. Product safety and product liability laws can be beneficial in that they promote consumer confidence. On the other hand, they can be detrimental to business in that they add costs that may not exist for competitors in other countries.
Economic Environment
Market Economy vs. Command Economy
In a pure market economy, the goods and services the country produces and the quantities produced are not planned by anyone. Rather, these things are determined by the interaction of supply and demand and are signaled to producers through prices. In order for this concept to work there must be vigorous competition among producers, which provides protection against monopolies. Monopolists have incentives to restrict output in order to let prices rise. Private ownership of businesses encourages vigorous competition and economic efficiency. Entrepreneurs have incentives to search for better ways of serving consumer needs.
In a pure command economy, the government plans the goods and services that a country produces; the quantity in which they are produced; and the prices at which they are sold. Businesses are state-owned; the rationale being that the government can direct them to make investments that are in the best interests of the nation as a whole.
The success of the countries with market economies (e.g., U.S.) and the failures of the countries with command economies (e.g., USSR) have demonstrated that a market economy is positive for the economic environment.
Economic Status
GDP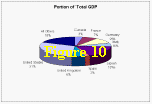 Gross domestic product (GDP) measures the total value of the goods and services produced annually. Appendix A, page 2, shows each country's GDP in its national currency units at 1990 prices. Appendix A, page 3, shows the GDP converted to U.S. dollars at 1990 currency exchange rates. Appendix A, page 4, shows GDP as a percentage of the total GDP for the 36 countries under study. Figure 10 graphically depicts the share of GDP of the most prominent nations. The United States accounts about one third of the total GDP of the study countries. Japan accounts for about one fifth. The major European countries account for about a third. All the remaining countries account for about a fifth.
As significant as relative size is the growth rate. Appendix A, page 5, shows the GDP growth rate based on constant 1990 prices.
While, gross domestic product (GDP) measures the total value of the goods and services produced annually, GDP per head of population is often regarded as a yardstick for the economic activity of a country. Appendix A, page 6, shows the GDP per capita in U.S. dollars at 1990 prices. Appendix A, page 7 shows the growth in GDP per capital.
Figure 11 - GDP Scores
Data derived from International Monetary Fund

International Financial Statistics Yearbook; 1996

* The World Almanac; 1996

Approximate GDP in 1990 Dollars

GDP as a Percentage of Total

GDP Score

(0-10)

GDP per Capita

GDP per Capital Score

(0-10)

GDP Growth Rate

GDP Growth Score

(0-10)

Argentina

165.1

0.8%

1.7

$ 4,831

1.4

2.1%

2.3

Australia

322.0

1.5%

2.3

$ 18,047

5.2

3.0%

3.4

Austria

183.0

0.8%

1.7

$ 22,790

6.6

2.3%

2.6

Belgium

216.7

1.0%

1.9

$ 21,090

6.1

1.9%

2.2

Brazil

640.0

3.0%

3.3

$ 3,997

1.2

2.3%

2.6

Canada

607.5

2.8%

3.2

$ 20,768

6.0

2.4%

2.7

Chile

36.3

0.2%

0.8

$ 2,595

0.7

4.6%

5.2

China

545.0

2.5%

3.0

$ 451

0.1

7.9%

8.9

Czech Republic

16.5

0.1%

0.5

$ 1,601

0.5

3.5%

3.9

France

1313.0

6.1%

4.7

$ 22,683

6.5

8.1%

9.3

Germany

1749.3

8.1%

5.4

$ 21,488

6.2

2.3%

2.6

Hong Kong

93.6

0.4%

1.2

$ 14,855

4.3

5.9%

6.7

India

345.8

1.6%

2.4

$ 370

0.1

5.2%

5.9

Indonesia

134.1

0.6%

1.5

$ 703

0.2

5.7%

6.5

Ireland

56.4

0.3%

1.0

$ 15,807

4.6

4.0%

4.5

Israel

64.4

0.3%

1.0

$ 11,930

3.4

4.1%

4.7

Italy

1200.0

5.5%

4.5

$ 21,000

6.0

2.2%

2.5

Japan

3337.3

15.4%

7.4

$ 26,707

7.7

3.2%

3.6

Korea

329.9

1.5%

2.3

$ 7,421

2.1

8.8%

10.0

Malaysia

58.1

0.3%

1.0

$ 2,956

0.9

6.5%

7.4

Mexico

261.1

1.2%

2.1

$ 2,807

0.8

0.9%

1.0

Netherlands

327.9

1.5%

2.3

$ 21,323

6.1

2.2%

2.6

Pakistan

47.1

0.2%

0.9

$ 373

0.1

5.8%

6.6

Philippines

40.9

0.2%

0.8

$ 611

0.2

1.8%

2.1

Portugal

76.0

0.4%

1.1

$ 7,600

2.2

2.6%

3.0

Russia

721.2

3.3%

3.5

$ 4,820

1.4

-15.0%

0.0

Singapore

53.6

0.2%

0.9

$ 18,293

5.3

7.3%

8.3

South Africa

108.7

0.5%

1.3

$ 2,690

0.8

1.0%

1.1

Spain

441.5

2.0%

2.7

$ 11,266

3.2

2.7%

3.0

Sweden

232.3

1.1%

2.0

$ 26,423

7.6

1.5%

1.7

Switzerland

242.8

1.1%

2.0

$ 34,738

10.0

1.5%

1.7

Taiwan *

257.0

1.2%

2.1

$ 12,070

3.5

7.0%

8.0

Thailand

120.3

0.6%

1.4

$ 2,025

0.6

8.4%

9.6

Turkey

145.4

0.7%

1.6

$ 2,377

0.7

2.7%

3.1

United Kingdom

1096.5

5.1%

4.3

$ 18,779

5.4

2.4%

2.8

United States

6050.0

28.0%

10.0

$ 23,210

6.7

2.6%

2.9

World

21636.3

Average

$ 11,986

Median

2.7%
Economies that are growing rapidly offer more profit potential than economies unlikely to grow. The United States, with its high standard of living, has less capacity for growth than countries such as China or India, which cannot even provide for basic needs of their population at this time. A low standard of living is not a sufficient indication of growth capacity; the low standard of living may be maintained in the future. The low standard of living needs to be coupled with factors that permit the pent-up demand to be realized; i.e., the right combination of political, economic, and legal environment. Of these factors, the existence of a free market economy stands out. A society with a free market economy usually has, or is developing, the political and legal characteristics necessary to support the free market economy.
Figure 11 shows the scoring for GDP size, GDP per capita, and GDP growth rate. GDP size was de-emphasized by generating the score based on the square root of the size. GDP per capital and GDP growth rate were scored linearly with higher values receiving higher scores.
Inflation Rate
Businesses, households, and equity markets tend to do better in periods of low inflation. Businesses and people are better able to plan ahead and have more incentive to save and to invest in financial assets. In a high inflationary environment, businesses and people are concerned with short-term actions to utilize cash on hand effectively and quickly. They are discouraged from saving and investing in financial assets.

Figure 12 shows an inflation rate for each nation. A four-year exponential moving average is shown. The inflation rate is scored subjectively with nations having low inflation rates being scored high.
Most nations have made significant progress over the last several years in reducing their inflation rates. A significant and dramatic improvement in inflation rate will be often be very positive for a nation's equity markets. Not only will firms' earnings improve but the market's average price-earnings ratio will increase as investors develop confidence in a nation's economy. The improvement in each nation's inflation rate is shown and scored. The scores range from negative ten to positive ten. The scores were based on the product of the inflation rate score and the inflation rate improvement. This technique adjusts for the situation that a nation with a low inflation rate will have a high percentage change that resulted from a small and insignificant change in the inflation rate.
Taxes
Individual income taxes reduce an individual's incentive to work hard in order to earn discretionary income and to invest in order to earn future discretionary income. Individual income taxes divert money that other wise might be available for capital formation. And individual income taxes reduce the velocity of money by diverting income from the sector with the highest turnover rate, households to that with the lowest turnover rate, government.
Corporate income taxes add cost to the products being offered. This makes the products less competitive in a global market. Additionally it lowers the standard of living within the nation by making the goods more expensive. Corporate income taxes reduce the capital that can be reinvested back into the business thus slowing the potential growth of the business. And they reduce the velocity of money by diverting income from a sector with a moderate turnover rate to that with the lowest turnover rate.
Value added taxes add cost to the products being offered regardless of whether a profit is being made. This both lowers the standard of living within a country and makes the nation's products less competitive in a global marketplace.

The accompanying figure shows the various tax rates for each nation. The tax rates were scored linearly with high tax rates receiving low scores. The United States received moderately low scores for income taxes. The United States does benefit by not having a value-added tax. This advantage is somewhat offset for domestic consumption by state and local income taxes.
Cultural Environment

Culture is that complex whole which includes knowledge, belief, art morals, law, custom, and other capabilities acquired by people as members of society. It includes its values and norms. The values includes society's attitudes toward such concepts as individual freedom democracy, truth, justice, honesty, loyalty, social obligation, collective responsibility, the role of women, love, sex, marriage, and so on. Norms are social rules and guidelines that prescribe appropriate behavior in particular situations.
The impact on culture in the investment environment is difficult to assess. However, two factors stand out - attitudes towards education and religion.
Education
Education is the means by which individuals acquire the language, conceptual and mathematical skills that are indispensable in the particular society. It is a determinant of national competitive advantage. The availability of a pool of skilled and educated people seems to be a major determinant of a country's potential economic success.
8
Each nation was scored based on literacy rate and the percentage of GNP spent on education (See Figure 15). The score for the literacy rate was obtained by squaring the literacy rate. The logic is that lack of literacy is a double penalty. Not only is an illiterate person not fully able to contribute to the modern productive workforce, but that person will have to be supported through his or her lifetime.
The percentage of GNP spent on education is an indicator of the emphasis that a country places on education. It should be noted that it is not a fail-safe indicator. A poor nation can spend a high percentage of GNP with less effect than a rich nation spending a lower percentage.
The expected educational achievement is an indicator of the average level of education in the nation. This data represents the expected number of years of schooling that a child can expect to receive in the future, assuming that the probability of his or her being enrolled in school at any particular future age is equal to the current enrollment ratio at that age. It should be noted that a year or grade completed in one country is not necessarily the same in terms of educational content or quality as a year or grade completed in another country. This data may not represent the number of grades completed, because of the possibility of repeating grades.
A nation's number of scientists and engineers is critical to developing products and technology required to compete in a global market. The number of scientists and engineers per million population is presented and scored
Religion
It is likely that religion may be the most powerful shaper of a culture's values and norms. Religions influence attitudes toward work and entrepreneurial activities. Religion ethics of a society can increase or decrease the costs of doing business in a particular country. Five religions dominate the world today: Christianity, Islam, Hinduism, Buddhism, and Confucianism.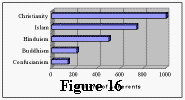 Christianity: Max Weber argued that there is a connection between Protestant ethics and "the spirit of capitalism". 9 He argued that Protestant ethics emphasize the importance of hard work and wealth creation and of frugality. According to Weber, this was just the kind of value system that would facilitate the development of capitalism. Protestants worked hard and systematically to accumulate wealth. Rather than consuming this wealth by indulging in worldly pleasures, they reinvested it in the expansion of capitalist enterprises. In addition the right to freedom of form of worship was central to early Protestantism. This emphasis on religious freedom paved the way for subsequent emphasis on individual economic and political freedom.
Islam: Islam has roots in both Judaism and to Christianity. Major principles of Islam include: honoring and respecting parents, respecting the rights of others, being generous but not a squanderer, avoiding killing except for justifiable causes, not committing adultery, dealing justly and equitable with others, being of pure heart and mind, safeguarding the possessions of orphans, and being humble and unpretentious. More so than for Christians, Islam is an all-embracing way of life governing the totality of a Muslim's being. The religious principles provide a code of conduct for interpersonal relations in his/her social and economic activities. Many of the economic principles of Islam support free enterprise and are hostile to socialist ideals. Islam support earning legitimate profit through trade and commerce. It also supports rights to private property and stresses living up to contractual obligations, keeping one's word and of abstaining from deception.
One economic principle of Islam contrary to business is the prohibition of the payment or receipt of interest. In several countries, including Pakistan, prohibition of interest has become law. Islamic banks are experimenting with alternatives including profit sharing as a substitute for interest.
In the last 20 years, there has been resurgence in Islamic fundamentalism in some countries, notably Iran but also Pakistan. Fundamentalists demand a rigid commitment to traditional religious beliefs and rituals and tend to be hostile to the West and to Western businesses, which they see as a corrupting influence.
Hinduism: Hindus believe that there is a moral force in society that requires the acceptance of certain responsibilities. They also believe in reincarnation and in karma, the spiritual progression of each person's soul. The moral state of a person's karma determines the challenges the person will face in his or her next life. The Hindus do not value individuals by their material achievements, but by their spiritual achievements. Consequently, there is not the same culturally based incentive for entrepreneurial activity that is found in the Protestant nations. Hinduism also supports India's rigid caste system in which there is no mobility among the castes. Caste rather than ability determine a person's position in a business organization.
Buddhism: According to Buddhism, life is suffering. Misery is everywhere and originates in people's desires for pleasure. These desires can be curbed by systematically following the Noble Eightfold Path - right views, right intention, right speech, right action, right livelihood, right effort, right awareness, and right concentration. Buddhists stress spiritual achievement. The work ethic and accompanying emphasis upon wealth creation that are embedded in Protestantism are not found in Buddhism.
Confucianism: Confucianism teaches the importance of attaining personal salvation through right action. It is built around a comprehensive ethical code that sets down guidelines for relationships with others. The needs for high moral and ethical conduct and loyalty to others are central to Confucianism. Confucianism is not concerned with the supernatural and has little to say about the concept of an afterlife. The ethics of loyalty, reciprocal obligations, and honesty in dealing with others lowers the costs of doing business. Hill argues that this factor helps explain the economic success of Japan, South Korea, and Taiwan.10

Figure 17 shows the predominant religion for each nation and scores each country based on religion. The impact of religion on the business environment was scored on the basis of 1-10 with 10 being the most positive environment. The individual religions were considered to have the following scores:
| | |
| --- | --- |
| | Confucianism – 10 |
| | Protestant – 9 |
| | Judaism – 8 |
| | Catholic – 7 |
| | Non-religious – 5 |
| | Islam – 4 |
| | Hinduism – 1 |
| | Buddhism – 1. |
Capital Formation

Capital is a critical ingredient in the creation and growth of businesses. Both the availability and the cost of capital are important. The capital for businesses may be in the form of loans from governments, banks, households, and other businesses – both domestic and foreign. It may also be in the form of equity. The equity can be assets of the founders or of private or public owners and/or stock issued and subsequently purchased by governments, households, and other businesses – both domestic and foreign.
Interest Rates
Interests rates represent the cost of capital obtained by borrowing.
Capital Gains Taxes
A high level of capital gains taxes discourages investment in appreciating assets. It also diverts capital that would be otherwise available for reinvestment into business. The tax rates shown in the accompanying table include both national and local government taxes. Note that Hong Kong and Singapore have no capital gains taxes. This fact, coupled with the fact that they have very low income tax rates and no value-added taxes, may go a long way in explaining the outstanding growth that they have shown. The United States has a relatively high level of capital gains taxes. Even with the proposed maximum national capital gain rate of 20% currently in the 1998 budget bill, the United States would score only a four.
Investment Restrictions and Exchange Controls
A number of countries have restrictions on investments within the country by foreign individuals and/or foreign companies. Additionally, countries may have controls on taking profits or capital out of the country. These measures discourage foreign investment in a country.
Investment Relative to GDP
Investment as a percentage of GDP is shown in the accompanying figure. Note the high level of investment in many of the emerging countries and the low level of investment in many of the industrialized countries. A high level of investment may indicate investor confidence in a country, or it may indicate a high level of government spending on infrastructure in a country with a low level of wealth. A low level of relative investment may indicate a lack of faith or lack of opportunity. On the other hand, a low level may be reasonable in a wealthy country that is recouping the rewards of previous investments. This indicator needs to be interpreted in the context of a nation's economic status.

R. Wesson; Modern Government--Democracy and Authoritarism; 2nd. ed.; Englewood Cliffs, N. J.; Prentice Hall, 1983
M.E. Porter, The Competitive Advantage of Nations; 1990, Free Press
M. Weber, The Protestant Ethic and the Spirit of Capitalism; 1905
C.W.L. Hill; Transaction Cost Economizing as a Source of Comparative Advantage: The Case of Japan; 1993; Organizational Science

Web site and publication by Howard Woodward Jr.
Copyright ©1997, 2000 by [hwoodward.com]. All rights reserved.
Revised: 29 Mar 2001 22:25:04 -0500 .